Field Trip Program Details: Curran Homestead Village at Newfield
Welcome! Make Curran Homestead Village at Newfield Your School Field Trip Destination in 2018!
We will be offering fall school field trip at our NEWFIELD campus.
The dates available between May 14 and June 22, 2018
Please consult our school field trip web page here for more details about our school field trips
For reservations contact: Robert Schmick, museum director at (207) 205-4849 or Email: thecurranhomestead@gmail.com
When you arrive at Curran Homestead Village you are to take your lunch with you from the bus as you will be leaving the lunch in proximity to the first learning station that you visit identified on your schedule. You will have a designated lunch time. There are a variety of sites for your lunch; many prefer open air on the large lawn next to the schoolhouse or on the porch of the Hands-On History building. There are picnic tables scattered around the campus, and you are welcome to any of these. We have inside dining if it is raining as we are a rain or shine destination.
When you make a reservation for your class or school to come to the museum you will receive a schedule. Each of the following learning stations are between 15 and 20 minutes in duration. You will have 5 minutes of travel time in between each of these stations.
School field trip groups will ride our 1894 Armitage Herschell horse carousel (powered by its' original steam engine that has been converted to compressed air for safety purposes).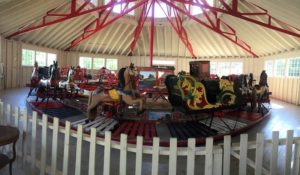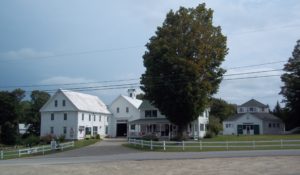 This carousel was offered to the public as an amusement at local fair grounds and gatherings in Maine and New Hampshire from 1896-1922 by its' owner Ivory Fenderson, a cabinet maker in Saco, Maine. The carousel was retired in 1922 to the loft of a hay barn where it remained until 1977 when it was brought to the former museum at the site. It took staff fourteen years to restore it to its present condition. Only in recent years has a ride been a staple of our school field trip program. A ride will be included in your field trip schedule.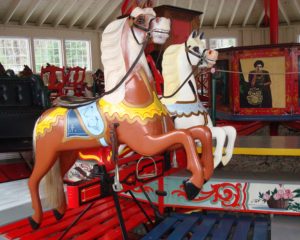 In addition to the carousel we have many buildings that contain hands-on interpreter led activities; these include a working collection of artifacts from the 19th century: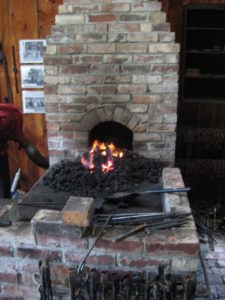 Blacksmith: this season we have a professional blacksmith in residence. He makes his living practicing the age old metal craft. He will be working at a coal-burning side draft forge. He will demonstrate heating and manipulating steel. His discuss his occupation and its importance to American life in the past. He will invite some students to assist him. We have two functioning blacksmith shops as we also provide classes for adults and teens in knife making, propane forge making, and traditional blacksmithing. Ask about this.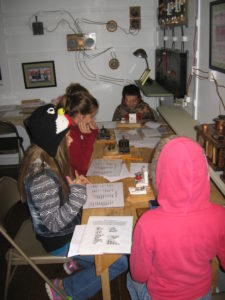 RMS Titanic and RMS Carpathia Marconi Radio Rooms: this offering is housed in our Hands-On History Building in two rooms separated from each other. There are 10 working telegraph keys and sounders. Although the Titanic had state of the art telegraphs that allowed wireless communication our telegraphs are connected by wires. The two rooms imitate the look of circa 1912 telegraphy with faux, life size examples of spark gaps, voltage regulators, switches and knob and tube wiring, although some of the instruments that students will be using are a hundred years old or more! Students will explore Morse code messaging which was still used by the US military until 2008. Telegraph messages were the beginning of the communications we use regularly today, like text messaging and cell phones. Learn about early communication and its relationship to the present day A-S-A-P ( an abbreviation that originates with telegraph communication.
The core of the Titanic room props were used in a production of Titanic at the Lyric Theatre in Burlington, Vermont and are on long term loan. The remainder of the exhibit was created by museum staff in 2014.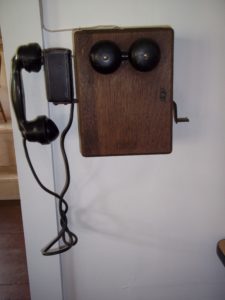 Magneto Telephones, Crystal Radio Sets, and Dynamos: Hand crank magnetos that power a working telephone, lighting, and magnets. These relate to telegraphs we will be using as these too use electromagnets.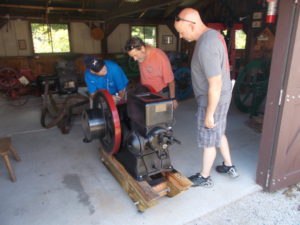 Early Gas Engines: See a 1919 Nelson Brothers 5 HP gas engine started. Yes, it is supposed to make that "back fire" sound. Tour a collection of early gas power machine used for lumbering and firewood preparation. A Model T Worthington Tractor and a early Fordson tractor are also in the collection. Model T assembly line activity.
Two-Man Saw: Experience what cutting firewood and lumber was like before the chain saw. We also have a popular hockey-rules board game from the 1920s—Knock-Hockey. Teachers, you might have to pry your students from this. No high sticking—checking, please!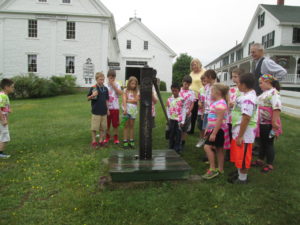 Block and Tackle, Chain Falls and a Furber Water Pump: these are among the favorite hands-on activities of past visitors. Experiencing real simple machine complements any textbook lesson for your curriculum.
Life Size Pinhole Camera (Camera Obscura): By the 1920s and 1930s seemingly everyone in America had a camera and snapshots were all the rage. The phenomena of images passing via light into a dark box upside down was known long before the first cameras of the 1840s appeared in America. This is a natural phenomena, camera obscura, that is demonstrated by human vision although the process is involuntary and sublimal. Students will have to climb in the box, draw the curtain, close the door, and hold a piece of foam core in front of them in order to recognize the upside down image that appears on it. This image has streamed through a pinhole in the front of the box revealing what is outside. This is more effective if teams of two do this whereby the person outside the camera stands at least ten paces away from the camera front and waves his or her arms making the appearance of motion on the foam core inside the camera appear more recognizable to the person holding it.
Amos Straw Country Store: this store opened in 1859 and was in operation well into the twentieth century. It has served as a museum gift shop since 1970. In addition to new merchandise there are many artifacts to experience. We still use a 1930 Seeger refrigerator to keep our soda cold. candy, souvenirs, books, textiles and more available. Our staff counts back the change in your hand…
Victorian Kitchen: a common thread that links much of what exists at Curran Homestead Village is that much dates from America's industrial age. Much of the material culture that you will have hands-on experiences with was manufactured. A kitchen from the Victorian era ( 1830s – 1910s) included many cast iron objects made in factories. Kitchens became more efficient in this era with the introduction of machines and appliances. Students will learn about the kitchen of the past, churn butter, follow a recipe, mix ingredients and see muffins baked in a wood stove. additional sharing about penmanship and measurements no longer familiar to us…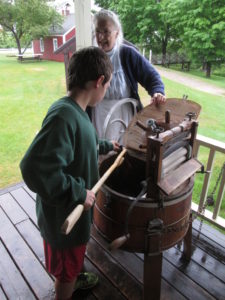 Circa 1900 Laundry: among the appliances available in the Industrial Age was the washing machine. Students will load the machine agitating the water with a hand crank mechanism. With a "dolley" stick laundry is fished out and run through a mangle or wringer. Students hang laundry on the close line with wooden pins. Try a sad iron that would have been heated on top of the wood stove.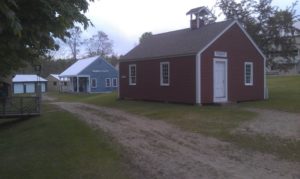 19th Century Schoolhouse: this is a replica structure of a schoolhouse built in 1839 in  Parsonsfield. Led by our role playing  school "marm", students experience first hand what it was like to go to school in a one room schoolhouse in the late 19th century.
Dr. Isaac Trafton's Office: Assemble a skeleton from x-rays, Roentgen's 1890s invention that revolutionized medical diagnosis [Trafton had no access to an x-ray in rural York County, Maine but Boston had by the turn-of-the-century]. Get electroshock treatment for "hysteria" on this hand crank electromagnetic contraption very much part of an era rife with quack medicine claims and miracle cures. Learn about reading bumps on your head (phrenology) to determine your potential skills and talents 1850s style. see other quackery from the period and learn what Dr. Trafton himself was practicing in Newfield in the 19th century.
Two Furnished Houses on the National Registry of Historical Places. Tour the Durgin and Trafton Houses with an interpreter, if you like. We will have many new objects to see this coming season as the result of another large gift of a house collection we are receiving this Spring!
1890s Basketball Court: The game has changed much since its' rules and strategy were conceived by James Naismith in the 1890s. No dribbling, much passing and no backboard to bank your shot into a, yes, peach basket!
Print Shop: the William Cram Printing Shop that has always been a feature of the former museum was gifted to Boothbay Railway Village. We are in process of furnishing a new print shop on the campus. This will have all the hands-on experiences generations have enjoyed including writing with a quill and metal nib fountain pen, printing a souvenir book marker using letterpress print press, and experiencing a foot treadle press that is 100 years old.
Granary and Cider Mill (Hoof, Paw, Hand & Foot Power): the farmer was one of the greatest beneficiaries of labor saving devices in the Industrial Age. Earlier in the 19th Century, grain for flour and livestock feed was processed through the use of water powered mills; these were large structures dependent on wooden cog wheels and pulleys of large dimension. Manufacturing brought portable mills, portable shellers, portable grinders and more to the farmer often by mail order. The power source for these machines might be horses, dogs, goats or sheep. Students power an 1880s dog or horse treadmill, turn a hand crank on a bone grinder or burr mill and 'crack" corn. Our cider mill is seasonal but students get some experience on another treadmill that powers a commercial apple grinder. See our 10 foot twin screw cider press cast in Waterville, ME in the 1870s.
Carriage House: Visit our collection of wagons, carriage, sleighs and sleds as well as 19th century commercial vehicles.
Dancing: Traditional folk dance and music, including square dancing, in our period ball room that served Newfield residents back in the 19th and early 20th century as a place to "cut the rug."
Traditional Programs ( with a map for your own self-guided tour; this is in contrast to a schedule of hands-on learning stations that are interpreter led):

Families Then & Now (Grades K-2): Durgin House. Durgin Barn. Carriage House. Blacksmith Shop.
Trades, Trading, & Transportation (Grades 3-5): Durgin House, Trafton House, Schoolhouse, Print Shop, Carriage House, Blacksmith Shop and Durgin Barn.
Enjoy your visit to Curran Homestead Village at Newfield!