There are very exciting happenings going on at the Curran Homestead!!! 
Beginning Blacksmith Course Begins January 10th
Classes meet Tuesday & Thursday evenings, 6 – 9 p.m. beginning Tuesday, Jan. 10, 2017 Tuition for the six-week course is $395 and includes all materials, plus a copy of Lorelei Sims' useful book, The Backyard Blacksmith Enroll now; space is limited!
Dwight King added detail to the course curriculum to include: safety discussions, materials and tools of the trade, fire starting and maintenance, heating the work, hammer blows and hammer control, measuring and marking, tapering to a square point, drawing out metal, forging square to octagonal and round, bending, twisting, forging a basic Shook, a drive hook, screw-in/nail-in hooks, making a chisel, a punch, a drift, punching holes, flattening and spreading, forging a spoon, simple leaves, nails, rivets, tool handles, door handles, scrolls, preparing for welding, forge welding a ring, butt hinge and riveting as well as working on personal projects.
ABOUT THE INSTRUCTOR: Dwight King has been passionate about moving metal around with hammer control for more than 12 years. His work runs the gamut of functional, handcrafted items to garden and lawn sculptures, and he's crazy about forging leaves. He has been a frequent volunteer at the Curran Homestead and Leonard's Mills, and is always willing to communicate knowledge of the craft. Dwight says, "Never stop learning, when you rest, you rust!" Blacksmithing is NOT a Lost Art at The Curran Homestead Living History Farm & Museum 372 Fields Pond Road • P.O. Box 107 • Orrington, Maine 04474 6 Week Course (36 Hrs.) – Limited to only 6 participants; first-come, first-serve
Contacts: Dwight King, Instructor, The Curran Homestead Beginning Blacksmith Course Email: dwightwking@gmail.com Tel: (207) 825-3829
Irv Marsters, The Curran Homestead treasurer Email: irv@bangorlettershop.com Tel: (207) 745-4426
Congratulations to our 2016 winner of the Fall Harvest Festival Scarecrow Contest – Orrington Trail Riders!!!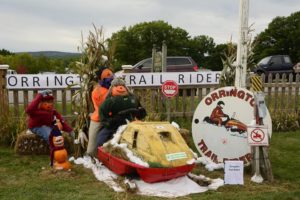 Preserving The Curran Homestead ensures for future generations the values and customs of rural America, representing a time when family, self-reliance, cooperation, and hard work were honored traditions. The Curran Homestead enriches the lives of our children, offers our community many opportunities for wholesome family fun, and serves as an excellent educational resource through hands-on activities and programs. As a cultural organization, our primary focus is the historical preservation of life on the Maine family farm at the turn of the 20th century.