Below is a link to an article the Portland Press Herald ran on the last weekend of Willowbrook Museum Village's last weekend of being open.  As you may know, the Curran Homestead is fortunate enough to be the recipient of the vast majority of their wonderful collection.
Congratulations to our 2016 winner of the Fall Harvest Festival Scarecrow Contest – Orrington Trail Riders!!!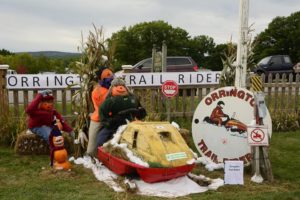 There are very exciting happenings going on at the Curran Homestead!!!  
 
Preserving The Curran Homestead ensures for future generations the values and customs of rural America, representing a time when family, self-reliance, cooperation, and hard work were honored traditions. The Curran Homestead enriches the lives of our children, offers our community many opportunities for wholesome family fun, and serves as an excellent educational resource through hands-on activities and programs. As a cultural organization, our primary focus is the historical preservation of life on the Maine family farm at the turn of the 20th century.