Volunteering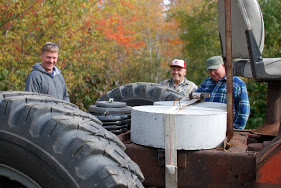 How can a nonprofit community-based museum like Curran Homestead Village serve the public more effectively?     ………….through your volunteerism! 
There are so many different areas we can use volunteers for! Working events, helping with school field trips, working on projects on our work days, cooking, cleaning, setting up displays—the list is endless!!!
If you are interested in volunteering, or would like more information call the museum director, Robert Schmick, at (207)205-4849 or E-mail: thecurranhomestead@gmail.com.  
We hope you will join us!
People volunteer for all kinds of reasons at The Curran Homestead and some of them are:
Making new friends
Having fun!
Making use of the time you have now that you are retired
Learning new skills like driving a circa 1950 tractor or forging a set of strap hinges for a barn door!
Keeping a little bit of the past alive by helping us to share skills and knowledge in venues provided at our living history museum
Sharing unique skills you may have with others
Making a contribution to a younger generation
Learning more about your community and your neighbors
Trying something never before attempted by you or your friends
Feeling satisfaction at getting things done and helping others
Creating things using the facilities and equipment on hand at the museum
Relieving stress
Spending time doing something you really care about.
…and the reason given most often is that you can make a difference!
As a part of The Curran Homestead you help us preserve a bit of our rural Maine heritage.
What will you choose to contribute? We need people, and your contribution can be as little as a few hours each month.
Do you like objects and materials from the past?
Assist in the documentation, research and presentation of our collections. Help create exhibits, living history programming using our collection, and static displays, draft display texts
, 
and
create signage.
Are you the type who likes to work outdoors?
There is the potential to grow produce and perennial herbs, as well as enjoy the beautiful seasonal changes of this rural Maine site. We have plans to cultivate the apple trees on the property for our seasonal cider making, and if you have this experience, you could share it with others at the farm. Help us tap maple trees and produce maple syrup on a small scale for our yearly sugaring event.