Starting Tuesday, July 11, 6-9PM.
Six Weeks of Blacksmithing and Knife Making.
Students will learn foundational skills in coal-fired forging. They will learn and create a series of projects in the first three weeks of the class that cover, heating, shaping, and cutting of steel. In week three students will begin shaping a blade and tang out of spring steel. The class will involve hardening and tempering the blade. Students will file, sand, & polish blades. They will prepare the tang to receive two hardwood scales and brass rivets for a handle. Tools supplied except a 2 to 2 1/2 pound hammer. natural fiber clothing. Safety glasses. Gloves optional. Tuition: $395. First pay first serve. For more information: Call: (207) 205-4849 To register, call: (207) 745-4426
NEWFIELD, ME: Starting SATURDAY, MAY 6, 9AM-4PM, THREE CONSECUTIVE WEEKENDS OF BEGINNING BLACKSMITHING. This is an introduction to coal fired forging. You will learn safety, building a coal fire, and fire maintenance. The class will introduce you to various hammering techniques for shaping, cutting, and bending steel. Students will create a punch, j-hooks, s-hooks, fork, spoon and other projects with embellishments.
Week 1, Saturday: Safety, Fire Control, & Tool Usage; Hooks & Twists
.Week 1, Sunday: Forks, Spoons & Bottle Opener
Week 2, Saturday: Simple Nails and Rivets
Week 2, Sunday:  Punches, Punching Holes & Simple Coat Rack
Week 3, Saturday: Coat Rack & Punched Hole Trammel, & Simple Candle Holder
Week 3, Sunday: and  Bracelet & Simple Leaf  Key Chain
The class will introduce forge welding. There are opportunities for students to get practice time in the smithy on a weekday night through arrangement with the instructor; this is not additional instruction. Instructor: Sam Smith. Tuition: $395, tools and material provided except for a 2lb. hammer that students should bring with them. Gloves optional. A set of safety glasses, natural fiber clothing and work boots required. Reservations required. Limited to six students. First to pay first served. Check or credit card accepted. Call: (207) 745-4426
NEWFIELD, ME: Two Tuesday & Two Thursday Evenings, April 4, 6, 11 & 13, 6-9PM (12 Hours) . Intermediate Level Blacksmithing Class: Learn Coal Fired Forge Welding with Blacksmith Sam Smith.
This is a challenging class for the intermediate level student who has mastered coal fired forge use and is competent with their hammer work. Students will learn to forge two pieces of metal together using a Borax flux. A fire poker, eyelet/ grab hook and a pair of strap hinges are the projects to be completed. $195
ORRINGTON, ME (FIELDS POND): Saturday, April 29, 9-4, METAL CASTING CLASS & Sunday, April 30, 9AM-2PM. MAKE A PROPANE METAL CASTING FURNACE or BLACKSMITHING FORGE CLASS. This is a two day class in which the fundamentals of casting aluminum, brass and high temperature melting point metals: iron and steel are introduced. We cover materials, fuels, equipment and methodology. Two projects in aluminum are facilitated using a sand casting method. For the furnace making, you will create the interior form in a metal shell to receive castable refractory cement rated at 3000 degrees Fahrenheit. The class will include a 10 PSI regulator and a black metal pipe with a gas release aperture suitable to creating a flame wand. The wand will be positioned with an addition metal pipe at a 45 degree angle in order to achieve a vortex within the furnace for optimal heating. The furnace will be completed and ready to fire after the refractory cures. All materials and tools provided. Two Day Class: $400.
---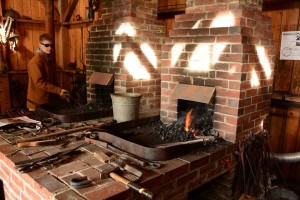 A History of Blacksmithing Programming at the Curran Homestead Village at Fields Pond
Since 2009, The Curran Homestead has significantly increased its collection holdings of tools and equipment relevant to metalworking and blacksmithing. Before this time there were a number of items in the collection that had come through the efforts of the late Bob Robinson, master blacksmith from Stockton Springs, Maine.  Robinson had grown up under the tutelage of his father, a Philadelphia-area blacksmith. His father had learned the trade through the then-prevalent practice of apprenticeships  as he too would later complete a formal apprenticeship seeking a livelihood as a blacksmith, but by this time the demand for blacksmiths was on the wane. He pursued building contracting instead, but often made use of his blacksmithing skills.
After a move to Maine in the early 1960's, Robinson built Split-Rock Forge in Stockton Springs. He continued to keep the traditional art alive, doing custom forge work for clients both local and nationwide. His interest in sharing his skills and the historical significance of the art form led him to his connection with a number of non-profit organizations, including 19th Century Willowbrook Village of Newfield, ME, which was recently gifted to Curran Homestead Village. Eventually, Robinson became a fixture at The Curran Homestead's "gatherings," working as a hired for pay blacksmith and setting up a portable forge in the barnyard and doing demonstrations. Public interest in these demonstrations inspired thoughts about creating a permanent blacksmithing shop at the farm.
Taking the idea of building a permanent smithy on the farm was brought a step further when Robinson secured a portable forge, an anvil and some tongs  from donors. Ceramic flue and masonry were also purchased at this time, but actual construction was temporarily stalled for lack of funds to complete the wood frame, siding, and roofing for such a structure that was necessitated for a year-round facility.
Before the portable forge, anvil, and selection of hand tools came to the farm there were only a few pairs of farrier's tongs that were likely from the Currans' own use of work horses. Before 1914, Arthur Conquest (with assistance from his son Edward) ran a Fields Pond Farm as a horse farm, and this would have lent itself to frequent visits to the site by local farriers. Blacksmiths, even until mid-century and rural communities,  would have been called out to farm locations for tasks like parts fabrication and repair; "carriage ironers," as they were often called, served the farmer in his maintenance of wagons, carriages, and horse-drawn farm equipment. We know of several permanent smithies in Orrington that were functioning well into the 20th century, and trips to these establishments to seek repairs and part fabrication were part of the Curran farm's history.
The construction of a permanent structure for demonstrations, instruction and collections storage was deemed necessary to share the traditional art of blacksmithing with the public, and it was in no way meant to re-write history or deceive the public by insinuating that a smithy ever existed on the farm site. With the change of our mission in our current endeavor to build a museum village we may have several.
During its history, the Museum has sought to develop educational offerings that focus on arts and crafts characteristic of 19th- and early 20th-century rural Maine life; the development of a permanent blacksmithing facility at the farm has been a monumental step in realizing this plan. The blacksmithing we intially presented was exclusively demonstration, but we have been offering beginning blacksmithing classes and other related metal working class almost continuously since 2009.
Building a smithy on our site insured that we could offer hands-on learning over a time period longer than our usual and seasonal one-day events. With both a structure and additional tools and equipment to satisfy the needs of a class of beginning blacksmithing students we believed that we could make an important step forward in the development of our educational mission to share skills and knowledge of Maine's rural past, and this goal has continued to be fulfilled. The smithy has allowed us to offer classes in beginning blacksmithing to students who may not otherwise have had the opportunity.
See the following article on the Fields Pond Smithy: Build a Smithy, and They Will Come; Strategies for Museum Development, by Robert Schmick, Museum Director, Curran Homestead Village. Maine Archives & Museums Newsletter, November 2009. This article identifies the origins of the smithy and the anticipated blacksmithing programming located at The Curran Homestead.