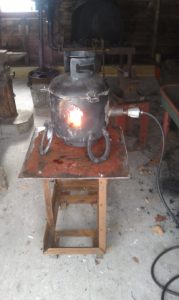 Sat., Sept. 16, 10-3. Make a Propane Burning Blacksmithing Forge at FIELDS POND.
Pay to register to make a cleanburning, relatively efficient, and inexpensive version of commercial forges that cost four times or more the amount to make this. This is an alternative to the costly indoor set-up of a coal fired forge for the
budding blade-smith or blacksmith. Cut metal and fabricate parts using power tools. We do the welding. Create a refractory cement mold using Sana tube, cardboard, and duct tape. Our cement is rated for high temperatures. Your assembly kit (to be assembled in class) includes a metal shell, legs, refractory, mold materials, a propane heating wand assembly with 10 PSI regulator and hose. Kit does not include a propane supply. If time permits, make a railroad spike knife after completing your forge. Past blacksmithing students (Curran): $275, all others: $295. All materials & tools provided. Class limit: 5, Call to register: Bob @ (207) 205-4849, or Irv @ (207) 745-4426.